Event details
Saturday | February 25, 2017
10:00 am - 6:00 pm
California State University, East Bay Multi-purpose room, New University Union 25800 Carlos Bee Boulevard Hayward, CA 94542
DESCRIPTION
Whether you are looking to explore new ideas, design innovative solutions, or build a next-generation business, join a community of seasoned and aspiring entrepreneurs, makers, innovators, and community leaders.
Get connected to the network of resources, knowledge, and experiences to be a more effective innovator, launch your business, and strengthen the community of innovation in the East Bay.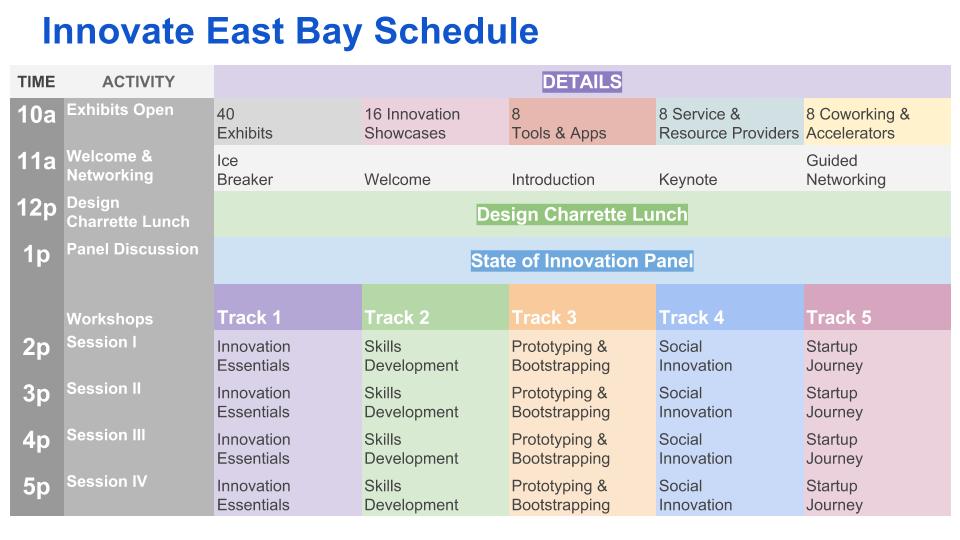 INNOVATION SHOWCASE
Innovative companies showcase their Products and Services.
RESOURCE EXHIBITS
Resource providers exhibit their Tools, Apps, and Services.
WORKSHOP PRESENTATIONS
Presenters share their knowledge in one of five tracks:
Innovation Essentials
Prototyping & Bootstrapping
Skills Development
Social Entrepreneurship
Startup Journey
STATE OF INNOVATION PANEL
Panelists share their insights on the state of innovation in the East Bay and beyond.

DESIGN CHARRETTES
Share your ideas around various design challenges.
GUIDED NETWORKING
Connect to the community of innovators and resources.
Links to some of our exhibitors, presenters, and partners:
Youth Business USA helps motivated young adults figure out how to make their business ideas a reality. YBUSA's experienced business advisors and mentors provide you with one-on-one support actually planning, designing and building your business, piece by piece.
Workshop Title: Build your Business Plan!
Workshops Description: Participants will use our online Business Model Builder tool to actually draft a business plan right there in the workshop. They will have one on one support and guidance from fellow entrepreneurs, mentors and advisors
The Kiefer Consulting as a partner who will help shape and realize their vision. From strategy development through to implementation, clients benefit from customer-centric delivery model. Their collaborative tools and methodologies enhance communication and foster positive change.
Workshops Title: Keifer Consulting
Workshops Description:The opportunity to hear from fellow innovators and entrepreneurs about their journey so far, and participate in a dynamic question and answer session
Draper University is the leading program in Silicon Valley for building founders, ideally suited for entrepreneurs ages 18-28. There innovative, immersive Residential Program in Entrepreneurship offers: essential startup skills, exposure to industry experts, a network of like-minded entrepreneurs, & mentorship from experienced venture capitalists (VCs).
Workshops Title: Pitch Hero
Workshops Description:Struggling with your pitch? Let the Program Coordinators of Draper University help with a session of, mostly fun, all around the pitch. In true Draper fashion you'll need to be prepared for anything during this off-beat pitch session.
Microsoft believe in what people make possible. "Our mission is to empower every person and every organization on the planet to achieve more."
Workshops Title: Microsoft Teams Project Management
Workshops Description: Microsoft Project is a project management, which is designed to assist a project manager in developing a plan, assigning resources to tasks, tracking progress, managing the budget, and analyzing workloads. Today we will go over seven main tasks you'll need to learn to reap the real benefits from Microsoft Project as a project-scheduling tool.
SV.Academy – Business development coaching and career development by top executives from Silicon Valley.
sv.academy
Oakland Digital – A non-profit design studio working to close three gaps: Digital Literacy, Opportunity, and Tech Inclusion among under resourced entrepreneurs and students.
oaklanddigital.org
Holacracy One – Holacracy is a complete, packaged system for self-management in organizations, a new peer-to-peer "operating system" that increases transparency, accountability, and organizational agility.
holacracy.org
Impact Hub Oakland – An innovative co-working space aimed to facilitate community development through social entrepreneurship and collaboration.
oakland.impacthub.net
Triune Infomatics – Offering IT Consulting, IT Staffing, Disability Staffing, and Executive Search.
triuneinfomatics.com
CodingDojo – The most extensive coding bootcamp in the industry
codingdojo.com
AdStage – Better Reporting & Automation‎. Manage all your Search & Social Ads in one place.
adstage.io
ZipPower – Pioneering a smarter approach to develop more efficient interconnected cities.
zippower.city
Bass Kings – Mobile Tournament Fishing App
basskingsapp.com
ScaleFT – Beyondcorp -style Robust Perimeterless Security
scaleft.com
Charity Live Stream – Charity Focused "LinkedIn" For Gamers & Artists
charitylivestream.com
Trunger – Food Truck Pre-order App
trunger.com
Occupassion – Discover companies and teams that share your passions and interests
occupassion.co
Career Development Center – Customized support for communities of Cal State East Bay, College of Business and Economics.
csueastbay.edu/cbe/students/cdc